PRESIDENTS UPDATE
Hi all,
Just a little club update. Obviously time has been called on the footy season for 2021, so frustrating to come so close to a seasons end for everything footy brings to the kids, club, families, community and our army of volunteers & guardians.
The NFNL board has determined that those teams who finished first shall be judged premiers and receive a cup, flag and medallions, those who finished second will receive runners up medallions.
Recognition to the below from Monty under that format.
U18 girls 2nd.
U15 boys 1st.
U14 Black boys 2nd.
U13 White boys 2nd.
Could we please request that all jumpers be returned to your Team Manager when possible and within restriction guidelines, we really need to set the kits up this year for handing out next season, jumpers stay with age groups.
The NFNL Junior awards night will be held this Monday night 13th September from 6.30 on the NFNL Facebook page, please have a look and keep an eye on proceedings, hoping to see lots of Monty kids names up in lights.
The club is determined to still hold our presentation days/nights to hand out awards and trophies. This is likely to take on a different format than in the past but is a determination of the club, every U9-U12 player receives a trophy.
A HUGE thanks to Charlie Kreuger from the senior club for his efforts in prettying up the Umpire rooms, new paint, shower repairs/tiling, holes in the walls and finding alternative storage for all the junk in there, such a massive improvement. Next on the list is doing similar work to the inside of the scoreboard. Special mention to Dee Cozy and Zac Anver for getting the ball rolling.
The clubs AGM is set down for the 8th of Nov and the club cannot underestimate the need to inject new and younger age group members into the committee and various roles. It has been hard to get around and talk to people with no season in 2020 and an interrupted season this year. Please don't sit back and wait for someone else to fill a role, if you can help then please reach out and step forward. Many roles are not committee based or just report in.
Special mention to a local business, Steve from Corben Security who has looked after the club with repair to the alarm at Simms and also has installed security cameras. Real quality work to protect the assets at our HQ. Look him up and support local.
And finally a second note to please return your childs playing jumper, with no final H&A game this has created a massive task, please don't be the person the club is chasing in Feb next year!!!
Darren Rigg
MJFC President
0427 308 248
---
Congratulations to our major sponsor Scott Nugent from Jellis Craig who has been named as one of the Top 50 Agents in Victoria, ranking at #28. A fantastic effort and so deserved and confirmation that you are always in good hands with Scott and his team. So if you are looking to buy or sell please get in contact with Scott and let him know you're from MJFC. He will always look after you.  A big congratulations to the other agents from Jellis Craig who were also named.
---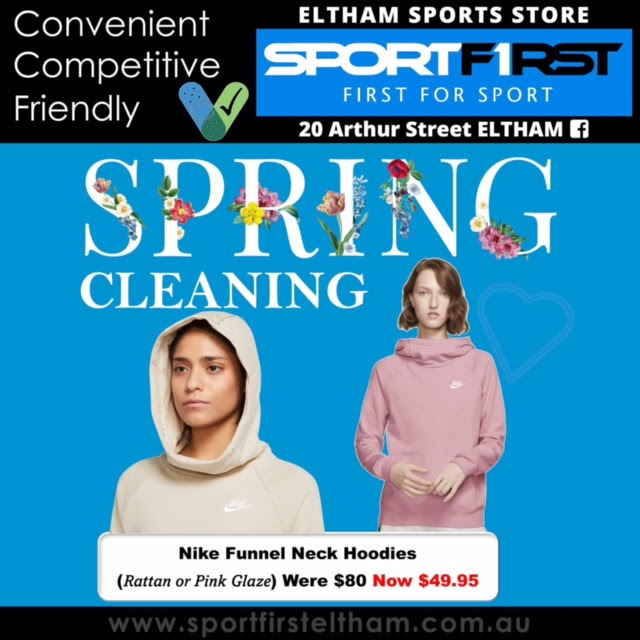 Spring Cleaning Special at
The Eltham Sports Store, SPORTFIRST
You'll be Comfy and cosy in these Nike Funnel Neck Hoodies
Order & Collect or Free local Home Delivery available.
ph 94314495,
DM @sportfirsteltham
email eltham@sportfirst.com.au
Offer ends Sunday 19th, while stocks last.
Follow our Facebook page for more SPRING CLEANING SAVINGS
FIRST FOR SPORT
Please note there is limited Nike product on the website, please call us, DM or email to place your Order for Nike
SAVE THE DATE
FOR THE MJFC ANNUAL GENERAL MEETING
ON NOVEMBER 8TH 2021
MORE DETAILS TO FOLLOW
LOOK OUT ON SOCIALS FOR DETAILS
---
We are looking for new volunteers for our committee and would love to hear from anyone who is interested in getting involved. Please contact deanna.costantin@gmail.com or 0416279810 if you're interested and want to find out more about how you can get involved. We would love some of our younger age group parents to join the committee and represent these younger age groups as they will be around for more years to come at the club and can help continue to develop MJFC into the future.